シャプトン砥石 刃の黒幕
・普段使い組合せ
 #1000  ¥3,600
 #2000  ¥3,680
 #5000  ¥5,580
 210*70*15mm
 500g
 ■商品コードS-46401■       
 ▶注文(メール)
Shapton, the whetstone,
The Mastermind Behind the Blade
Daily use combination
 #1000 ¥3,600
 #2000 ¥3,680
 #5000 ¥5,580
 210*70*15mm
 500g
 Product Code S-46401
 ▶email order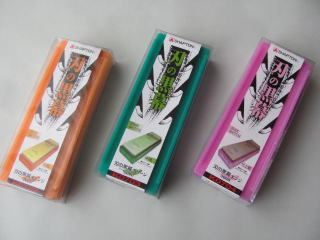 #1000    #2000    #5000
#1000
中砥だが荒砥がいらないと言われるほど良く刃が付き、荒・中兼用として便利です。鑿、理容用鋏の荒砥、彫刻刀の荒砥、出刃鮭切り、鰻割き、洋出刃などに向きます。
#1000


Although this is a medium whetstone, it can cut so sharply that it is said to be unnecessary to use a rough whetstone, and is convenient for both rough and medium-sized whetstone. This blade is suitable for chisels, hairdressing scissors, carving knives, chopping eel, eel splitting, and foreign edged blade, etc.



#2000
中砥ぎも仕上げ砥ぎも兼ねられる、手間いらず時間いらずの中砥石です。
鉋、カミソリの荒砥、理容用鋏、彫刻刀、裁鋏、刈込鋏、鮪切包丁、鰻割き、ステンレス和包丁、中華包丁。
#2000.
A medium whetstone that can serve as both a medium and finishing whetstone and requires no time and effort.
Planing plane, razor sharpener, barber's scissors, carving knife, sewing scissors, trimming scissors, tuna cutter, eel splitter, stainless steel Japanese kitchen knife, Chinese kitchen knife.

#5000
従来の仕上げ砥にありがちなツルツル感がなく、食いつきがよく研磨力の優れた砥石です。鑿、出刃・鮭切、蕎麦切り、小出刃、鯵切り、薄刃、洋出刃、冷凍切り、家庭用包丁、裁鋏、氷細工鑿#5000
This is an excellent whetstone with excellent bite and polishing power without the smoothness that is often seen in conventional finishing whetstone. Chisel, De-edged blade, salmon cutter, buckwheat noodle cutter, small de-edged blade, horse mackerel cutter, thin blade, foreign de-edged blade, freezer cutter, kitchen knife for home use, shears, chisel for ice work
#1000は研磨力が高いわりに、刃の変形が少なく刃を研ぐ際の土台つくりに大変適しております。
#2000は、次に仕上げ砥に飛んでしまうと間がありすぎて、#1000の研磨跡がなおせません。その意味で間に#2000で砥ぎを慣らすことをお勧めします。
仕上げ砥は、普段使いであれば、#5000で十分です。
#8000は、プロの使う本焼和包丁などの切れ味仕上げ砥に適しています。

The #1000 has a high abrasive power, but the blade is less deformed, so it is very suitable for making a foundation for sharpening the blade.
If #2000 is used for the next time the finish grit is applied, there is too much space between the two, and the polishing marks of #1000 cannot be repaired. In that sense, we recommend that you get used to using #2000 in between.
As for the finishing grit, #5000 is sufficient for everyday use.
#8000 is suitable for the sharpness and finish of Japanese knives used by professionals.